Anakotta - Guruvayoor Elephant Sanctuary

Anakotta (aka anathavalam) is a unique place - a world of elephants of different sizes and natures.
Some are gentle and friendly, some are indifferent while a few are aggressive enough to be severely restricted by chains.

Do you want to spend time walking amidst 60 to 85 elephants kept in a 10 acre plot of coconut groves? Do you want to find yourself surrounded by great many giants?

If you do, Anakotta in Central Kerala welcomes you with an army of elephants.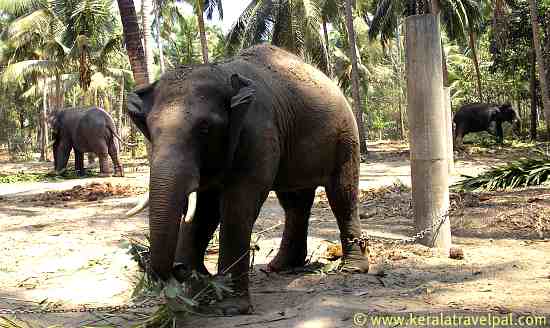 Elephant sanctuary is only a couple of kilometers from the temple town of Guruvayoor in Thrissur district.

Elephants are associated with Hindu temples and have roles in certain rituals.
Sanctuary premises as well as the animals are owned by Guruvayoor temple. Temple management takes care of all aspects of their care.
Guruvayoor temple, one of the prominent temples in India, receives so many kinds of donations from devotees. They are all for the deity Lord Guruvayoorappan (Sri Krishna). Yet there is a gift offering that stands out from all the rest. Elephants!

Initially, elephants were kept in Kovilakom compound (Sreevalsam of today) in close proximity to the temple itself. As their numbers grew, they were relocated to their current locale which used to be the palace grounds of the local ruler.

Punnathur Kotta

The local rulers, Punnathur Rajas built a palace which was called Punnathur Kotta (Punnatur Fort). After the demise of the last ruler Goda Varma Valia Raja, the property went to receivership. Soon after purchasing it in 1975, Guruvayoor temple committee relocated their elephants to here.

Made in traditional Kerala architectural style (Nalu Kettu), this palace has a heritage of about 400 years. Located prominently in the middle of the sanctuary, it is currently used as a Mahout training centre.
When the palace grounds became elephant sanctuary, people started calling it Anakotta (also Anakkotta) which means elephant fort.

Punnathur kotta has been the location for some Malayalam movies. The old movie Vellam was almost entirely shot here. Oru Vadkkan Veeragadha, the movie that won several national awards had many scenes filmed here.

There is also a small temple in the premises. The deities there are Lord Siva and Bhagavathi.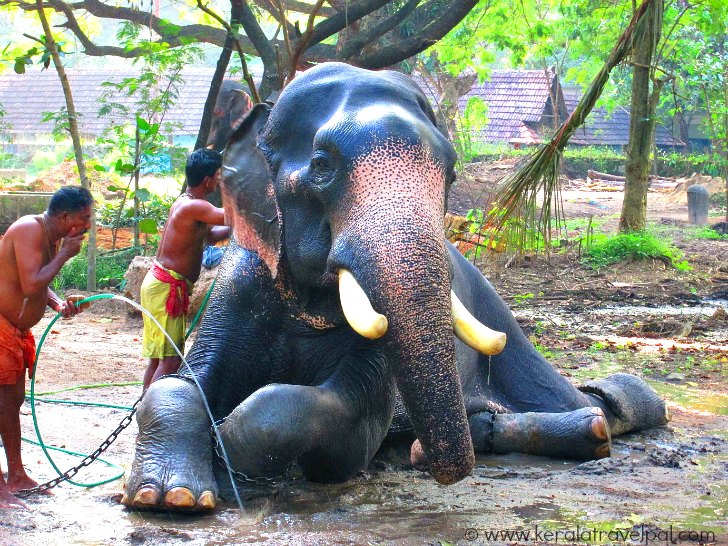 Elephants
Elephants, although usually loosely tied to a concrete stump with chain, are always active.
Some can be seen eating palm leaves or playing with it while some others may be playing with mud. You may also see them taken for a bath in the nearby pond.
Morning is the bathing time. As all the elephants cannot be taken to bath at the same time, most morning visitors get to see a few elephants getting a wash.
If you cannot reach here in the morning, that is going to be just fine. Feeding them happens around 3 PM. Also, Anakkotta is always a place filled with activity.
Dangerous ones, especially those on masth period have extra chains to prevent them breaking free to bring mayhem.
Masth is a period of intense hormonal activity during which elephants become very aggressive. It is a function of their biological cycle and takes up a month or two every year. By the end of the period, elephants return to their previous placid nature again.
Do you know there are elephants that are more than 80 years old? You will see some baby elephants too.
Elephants are not treated as nameless creatures. They all have names and identities. The bigger ones even have fans who adore them.
One of such elephants with a legendary status is Guruvayoor Kesavan. Several decades after death, he is still remembered for his good nature, intelligence and great size. You can even see his large statue in Guruvayoor town. Many people regard him as the best elephant ever lived. In 1973, the golden jubilee of his services was celebrated and he was given the title Gajagrajan - the King of elephants.
Besides attending their duties related to Guruvayoor temple, elephants also participate in festivals of other temples.
Even though many temples own elephants, usually they are only one or two. They need more elephants to bring grandeur to their festivals. So they rent them for a day or two.
Elephants are in great demand as different festivals in different temples seek the same elephants. Vigorously contested auctions to rent elephants happen between various pooram (temple festival) organisers. As a result rent rates can shoot up during peak festival seasons.
Elephant sanctuary is open from 8.00 till 6.00 every day.
The entry charges are nominal except for video cameras. I would not use the word nominal for the price they charge for video cameras.
How to reach
The Sanctuary is located on the Ponnani – Guruvayoor Road near to Kottappadi. Take the turn from Thampuran padi and you will be there after hundred meters or so. The place is just beside the road. Drive slow so that you would not miss it.
If you are taking a Guruvayoor – Ponnani or Kunnamkulam – Ponnani (Kottappadi via) bus, get down at Thampuran Padi bus stop. Anakotta is only at walking distance from there.
If you are coming from Guruvayoor or Chavakkad, Take the Anakotta road from Mammiyoor. From Mammiyoor Juntion, Elephant sanctuary is just about 2 kms away.
Auto Rikshaws are there everywhere, in case you need them.
Alternatively, you can reach the towns of Guruvayoor, Chavakkad or Kunnamkulam and hire an Auto Rickshaw or taxi to the sanctuary.
Guruvayoor Anakotta - Facts at a glance
Location : Central Kerala

District : Thrissur

Nearest towns : Guruvayoor at 2 Kms, Chavakkad at 4 Kms and Kunnamkulam at 8 Kms

Bus Station : Guruvayoor Bus Station at 4 Kms

Taxi / Auto Rickshaw Hire : Guruvayoor Town at 4 Kms

Railway Station : Guruvayoor Railway Station at 4 Kms (only a few services) and Thrissur at 32 Kms.

Air port : Kochi Int'l Airport (COK)at 105 kms
Food Options : Restaurants at Guruvayoor town.

Accommodation Options : Hotels and lodges at Guruvayoor.

Best time to visit : Can be visited anytime during the year.

Nearby Attractions : Guruvayoor temple and town, Palayur Church, Chettuva backwater and Chavakkad beach are within a few kms. Major tourist spots in Thrissur district are - Athirapally and Vazhachal falls, Peechi Dam and wildlife sanctuary, Chimmony wildlife sanctuary and Kerala Kalamandalam. If you are visiting Thrissur town, interesting places in the locale are art and archaeological museums, Thrissur zoo, Puthan Palli, Vilangankunnu and Shakthan Thampuran Palace.
Return from Anakotta to Kerala wildlife sanctuaries Page
Return to Keralatravelpal home page