Pathiri
An authentic Kerala dish, Pathiri, used to be a favourite brekky food of Muslim households of Malabar region. Overtime, this simple rice pancake won hearts all over Kerala. Nowadays, it is a desired choice of pretty much anyone.
Pathiri is versatile. You can make it thick, thin or even stuff it with egg, meat or fish. 

The thin ones, called Nice Pathiri, is the most popular. They are usually pure white; a bit of brownish tinge is ok too. See the black plate photo below.

The thicker version is Katti Pathiri.  It is shown in the red clay pot photo above. It is also well liked.
Want to keep the kids happy? Dish out a few small ones- Kunji Pathiri. 

Usually a breakfast dish, people have it any time except for lunch. It is popular during night, especially during Ramzan fast opening times.
It goes excellent with most curries, roasts or fries, veg or non-veg. Hence often prepared to serve guests.
There is a way to eat them. First pour some fresh coconut milk to soak. Then add your choice of curry. Enjoy!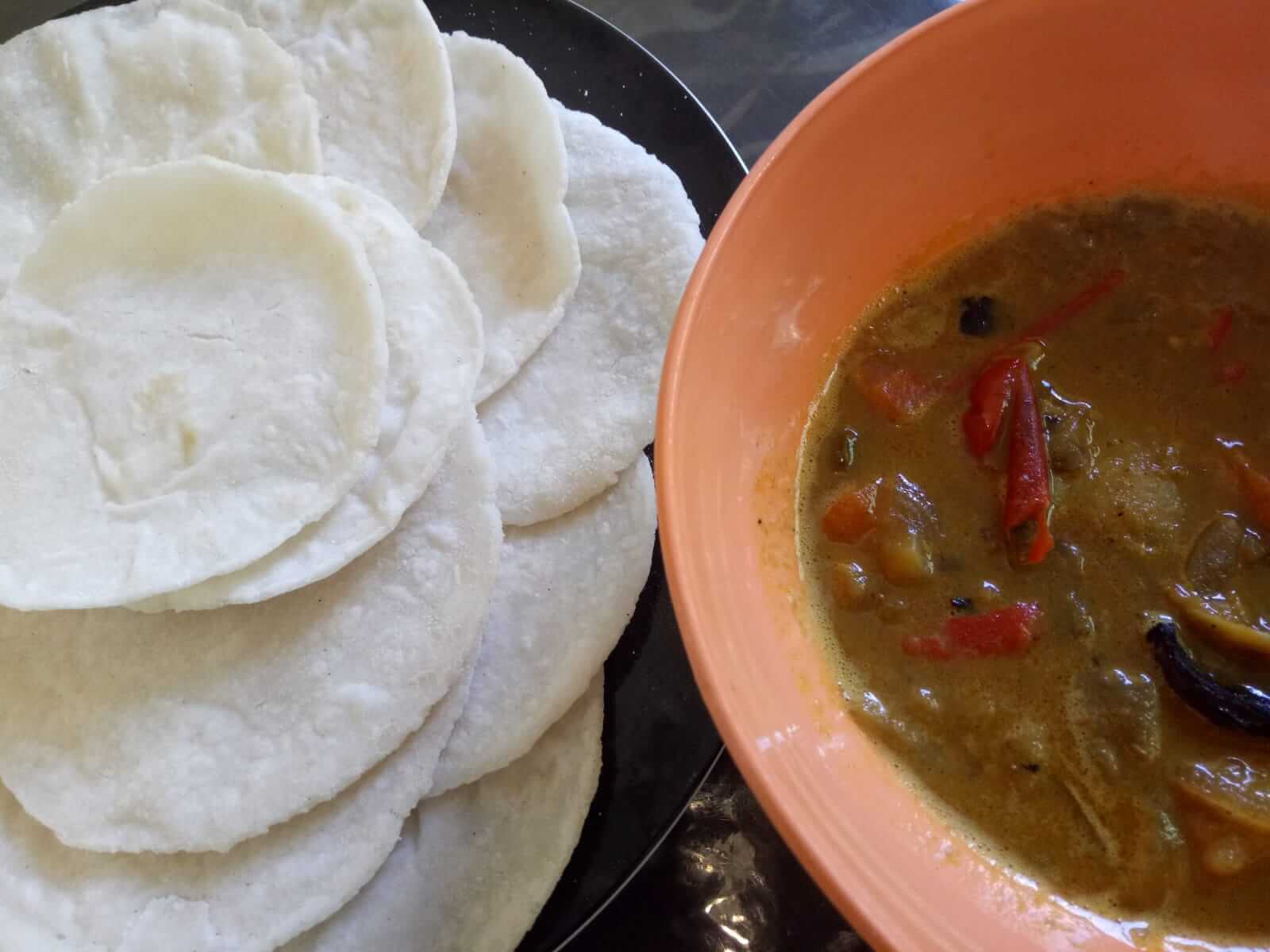 They are not as common in Restaurants or Takeaways as Porotta, Dosa or Idly. However, in parts of North Kerala, Calicut for example, it is common in Restaurants.
For plain Rice Pathiri, there are only a few ingredients – rice flour, salt and water. For thicker ones, there is the choice to add some shredded coconut.
Oil is not needed. Nothing wrong with adding a few drops either. In some cases, a drop or two of oil is added to the pan to prevent it from sticking to the pan. Ney Pathiri (ghee Pathiri) and Fried Pathiri are exemptions, of course.

How to make Pathiri
Ingredients:  Rice flour – 1 cup     Boiled water - 1 cup   Salt – To taste    
                        Also keep aside a few spoons of Rice flour to sprinkle on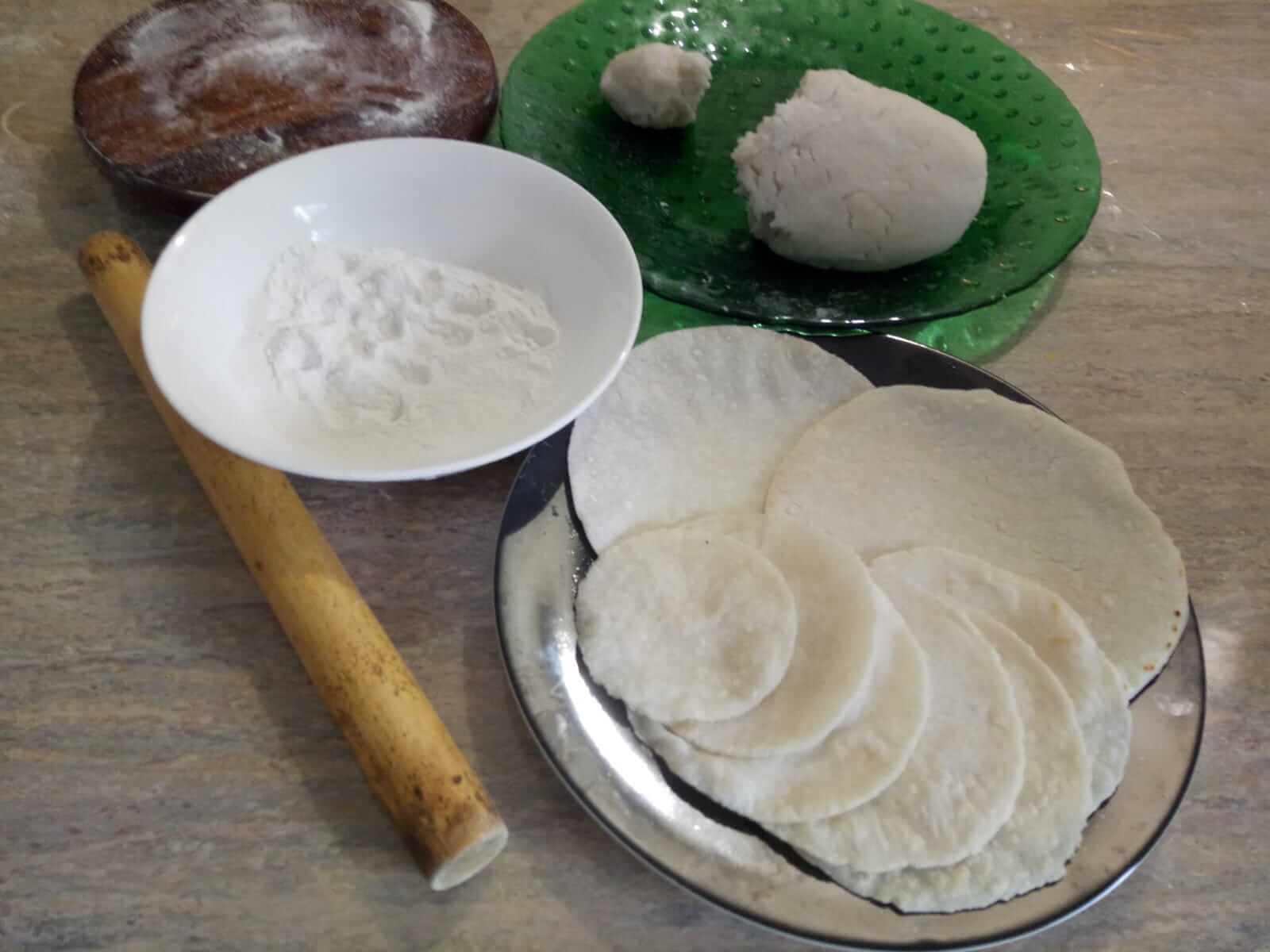 1.       Boil water. Add rice flour when water starts to boil. Stir thoroughly so that the flour absorbs the water. Switch off fire.
2.       Cover the pot with a tight lid and keep it to cool for about 5 – 10 minutes.
3.       Knead the warm wet flour to dough. Press the finger on the dough to see if it keeps shape as if in the picture below. It means the dough is ready.

4.       Make balls out of the dough. The thin ones only need small balls.
5.       Sprinkle some rice powder on the balls and roll them. You can roll them in the traditional way or use a Pathiri Press, as shown in picture below. Some people use the press initially and then manually to roll more.
6.       Roll them until really thin. Cut in to perfect round shape using a lid or a small kitchen pot or anything similar.

7.       Use a heated pan and cook. A normal frying pan is fine. Cook both sides.
kai pathiri
You can make thick Pathiri  using just hands. They are called Kai Pathiri. You just flatten the balls of dough using hands and bring to shape. Larger balls are used.