Basic Kerala info
This Basic Kerala info section is meant to be a starting point. If you are a potential visitor just embarking on some research about Kerala, you have come to the right place.
Kerala is one of the states in Southern India.
It takes up only a bit more than 1% of the total area of India, and tiny compared to larger states such as neighbouring Tamil Nadu and even Karnataka.
Nevertheless, Kerala has been good in one thing – winning over people's hearts. The testimony is the ever climbing tourist traffic stats.
Kerala hit global fame as the land of backwaters where holidaying in house boats has become quite a sensation among travel folk.
Scene from Central Kerala
There is more to Kerala than the backwaters. Endowed with a coastal belt, a mid land and high land, Kerala is a green paradise thorough out.
On its west lies the Arabian Sea while the east is guarded by Western Ghats mountain ranges. South Indian states of Tamil Nadu and Karnataka are its neighbours.
As the coastal belt runs through more than 900 kms, it is not surprising to find many beaches, a few of them even known outside India.
The mid land has higher plains, valleys and some hills. The lower parts are green with coconut groves and paddy fields. The higher parts are even greener thanks to plantations and forests.
The highland is the mountain ranges of Western Ghats.  Wildlife sanctuaries, waterfalls, forests and hill stations are located here.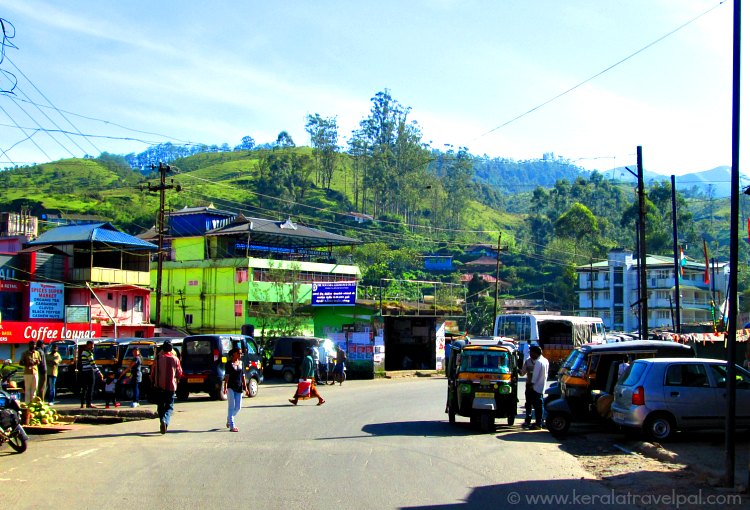 Munnar town
Kerala info – language and localities

Prior to Indian Independence, Kerala used to be three princely states – Travancore, Cochin and Kozhikode.

These, along with a few other Malayalam speaking pockets, were forged in to the State of Kerala, in 1956. The Malayalam speaking populace describes themselves as Malayalees. Any man, woman or kid of Kerala is a Malayalee.

The language Malayalam has its origin from Sanskrit. With 56 alphabets, it is a tough cookie when it comes to pronouncing.

The capital of Kerala is Trivandrum. It is the location of the state parliament. 
The state government presides up on much of the affairs of Kerala. The head of cabinet is the Chief Minister to whom other ministers report.
Indian Government oversees higher level or national issues where as truly local matters are dealt by local governments in villages, towns and regions.
For admin purposes Kerala is divided into 14 districts. The left side navigation bar of this web site, under the title localities, has detailed travel info on every one of them.
There are three major cities, some big towns and a greater number of smaller ones. The major cities are Cochin, Trivandrum (or Thiruvananthapuram) and Calicut (or Kozhikode).
Kerala is the most educated part of India. So you can get along fairly well with English.
Transport facilities
There are three airports and several railway stations.
The airports are at Cochin, Trivandrum and Kozhikode. Largest is Nedumbassery International Airport, located near Cochin. For ease, it is also called Cochin Airport.
Cochin is the major gateway to Kerala, especially for international travelers. Most people arrive at Cochin since it is centrally located and convenient to get to several major tourist attractions.
Train services are a choice for domestic travelers as well as those who have been already traveling in other parts of India. Most district HQs and some important towns have train stations.
There are also several daily interstate bus services between Kerala and major South Indian cities such as Bangalore and Chennai.
Also, most places within Kerala are well connected by bus services. Taxis and Auto rickshaws (Tuk Tuk) also service widely.
Weather
Kerala has a tropical climate. Technically stated there are four seasons although the variation between them is not quite marked. So the climate appears to be of a rainy season (Jun-Oct) and a prolonged dry season (Feb – May). Winter (Nov – Jan) is barely noticeable except for a bit cooler mornings.
 Temperature hovers between 22 – 35 degrees in summer and 20 -32 degrees during rest of the year. The higher altitudes of mountain ranges are a few degrees cooler year round.
Food
Similar to many other parts in Asia, local diet leans heavily towards rice, especially for lunch. Dinner is usually rice or something such as chappathi, parotta or even dosa.
The use of breakfast cereals is not common, since Keralites are already spoiled with a range of delicious choices.   The most common of these brekki foods are parotta, chappathi, idli, dosa, vellappam, oattappam, Idiyappam, pathiri and puttu.
Biriyani and Ghee rice are quite popular for lunch and dinner. They are also the preferred food choice for Christian and Muslim Weddings.
Kerala veg dishes are best in variety and taste. The good news is that they are mild too. Authentic Kerala rice and veg curries are a must try, if you visit here. Ask your agent or guide where you can get rice and curries similar to that served during Hindu Weddings.
Rice and veg curries
Since there is a long coast, fish is every day part of diet, except for some higher caste Hindus, who are vegetarians.
Kerala style fish curries and fried fishes and mollies are an instant hit among tourists.
Nowadays you can find a lot of western eateries as well. You may also notice that many of the western dishes have taken an Indian twist.
A rule of thumb in dining out in Kerala is to avoid eating meat unless you feel the joint is trustworthy.
Kerala Travel Basics
The following topics contain basic info you need to know to plan your Kerala trip well.

Return from Basic Kerala info page to Keralatravelpal home page