Beypore ship building
Beypore ship building dates back to fifteen hundred years or more. It could even be several thousand years.
Urus are wooden ships.  Cargo carrying capacity is in the range of 300 to 500 tons.
Uru, the wooden ship in making
During ancient days, these ships were mostly used for trade. Customers from Western Asia, even for their initial voyage, filled their ships with much sought after Kerala spices.
Arabs, the major customers are also credited with passing on the knowledge of Uru construction to Beypore. In Arab vernacular, these ships are called Dhows.
Today nearly 500 families depend on Uru industry. The customers are the ruling and business elite from Gulf countries such as Qatar, U.A.E etc.
Ships are usually for private use. Room numbers vary; standard choice is about a dozen or more.
Urus were traditionally built totally machine free. Even nails were not used.
Unlike their ancestors, modern day Uru makers use simple machines as well as nails. Most of the work is done by basic carpentry tools.
Machine use is so minimal that we have to say Beypore Uru making is a manual trade.
An Uru takes the full time efforts of 30 – 50 skilled workers well over a year.
The work is painstaking, and the demands for precision and passion are high. And it is team work throughout.
Just to get the idea, see the picture below. The gaps have to be closed by fine cotton thread and perfectly sealed thereof.  Slow and repetitive, needs a lot of patience, aren't they?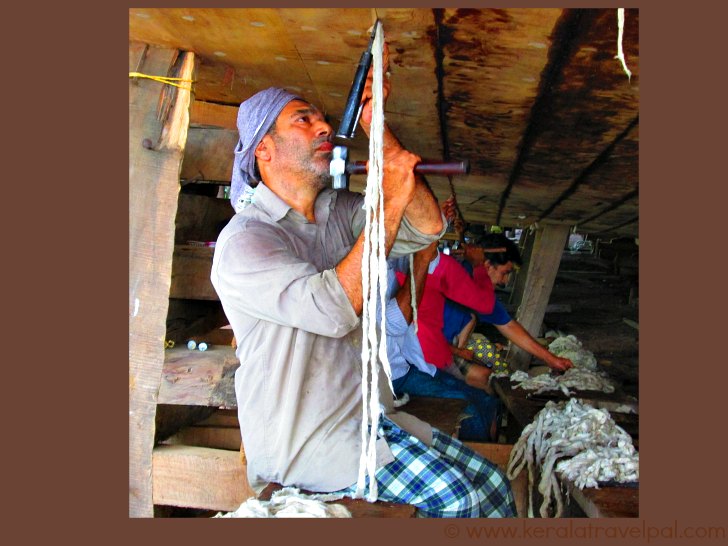 While workers are skilled in their respective areas, the total knowledge of Uru building is limited to very few people. These are guarded secrets carried through generations.
May be up to four people knows the stuff inside out. They are the master craftsmen called Maestri.
Surprisingly, there are no drawings or prototypes. No technical data sheets either.
All the information needed is inside the heads of these few men. It eventually gets manifested as ships through sheer hard work and brilliance of the collective whole.
To achieve that, master craftsmen do all the calculations, pass on tasks on a day to day basis and get on with constant monitoring.
As the ship is being built, they mark the water level around the hull. And guess what, the ship in water always settles at that exact water level!
As these ships are based on wood, selecting good quality right sized wood is paramount. Local wood like teak were traditionally used, however much cheaper quality wood is nowadays available from Malaysia and Burma.
Uru building yards are near river Chaliyar, about 1 km off from where it drains into the sea.
The whole process of ship building extensively uses pulleys. The workers, called Mappila Khalasis, are experts in moving heavy weights.
So they are in demand to remove motor vehicle wrecks from road accidents. Oh boy, does Kerala have any motor accidents! 
By the way, Khalasis also take up other hardcore and unusual lifting tasks.
Small souvenir Urus is available to purchase from handicraft shops of Beypore and Calicut.
The best part of course is the water launching of completed ships. It is an event attended by a large gathering. Rolling a ship into the water just by using pulleys, ropes and wood is quite a task. And these guys get it right, period.
Of course, a feast follows.
Beypore tourist attractions
Beypore is one of the finest beaches around and is on the tourism map for all the right reasons. Pulimuttu, the 2 kms long rocky pier into the sea, is great for relaxed walks. 
Kadalundi River surround is a bird haven. However, most birds are seasonal visitors. Better to check before you go there, to avoid the disappointment of not sighting enough birdies.
Chaliyam beach is a pleasant surprise. It is a lovely local beach not known to outsiders.
All the above tourist spots are within a few kms from the ship building yard.
Accommodation
Even if we wish to spend a few days chilling out at Beypore, it is hard to find any accommodation.
So the choice left is Calicut city, which is only about 10 kms away. And fortunately, there is a wide choice there for accommodation as well as food.
How to reach
The Uru building yard is located in the district of Kozhikode in North Kerala.
Beypore is easily accessed from Kozhikode (Calicut) city, by half an hour car drive.
Kozhikode has an airport, rail head, and several bus terminals. It is a convenient stop over to other North Kerala locations.
Beypore ship building - Facts at a glance
Location : North Kerala
District : Kozhikode
Nearest towns : Kozhikode City at 10 Kms
Bus Station : Kozhikode Municipal Bus Station (New Stand) at 10 Kms
Taxi / Auto Rickshaw Hire : Kozhikode City at 10 Kms
Railway Station : Kozhikode City at 10 Kms
Air port : Kozhikode Int'l Airport (CCJ)at 23 kms from Kozhikode town
Food Options : A few stalls and eating places available near the beach and town. Many restaurants in Kozhikode City.
Accommodation Options : Hard to find accommodations in the area. Many hotels and lodges in Kozhikode City.
Best time to visit : October to May.
Nearby Attractions : Kozhikode City (shopping & eating), S.M. Street, Calicut Beach, Mishkal Masjid, Elathur, Pazhassi Museum, Kappad Beach and backwaters, Chaliyam beach, Sasya Sarvaswam, Sand Banks Beach, Jain Temple, Kadalundi Bird Sanctuary, Thusharagiri Waterfall, Kakkayam, Peruvannamuzhi Dam and Thali Temple.
Return from Beypore ship building page to Kozhikode page
Return to Keralatravelpal home page