Chapati
Chapati (Chappathi, Chapathi) is a type of simple flat bread. It is one the most common food items in several counties Including India and its neighbours. Millions of people enjoy it daily or at least a few times per week.
Chapati is close to Pita bread and similar wraps available in supermarkets in Western Countries. Chapati is called roti sometimes. However, roti is a broad name, that include a variety of flat breads including Chapathi.
Chapati made in Kerala in pretty much similar to other parts of India. It is made using Atta, which is a kind of wholemeal wheat flour. You can substitute is with wholemeal flour. Wholemeal flour chapatis turn out to be good, but not as good as those made with Atta.  Chapatis made with Atta taste better.
Chapati goes well with all types of curries. Chapati with Daal or Chana curries are every day choices. Roti and Subji, the potato dish, is another good combo. 
One of the reasons why Chapati is so much in use is because it goes so well with most type of curries and side dishes whether veg, meat, egg or fish. 

Types of Chapati
It is easy to make Chapati with different types of fillings.
Paneer Chapati - Paneer is a type of cheese. Chappati is made with stuffing of Paneer and veg
Aloo Chapati - Potatoes filling is used, common breakfast dish of North India and Pakistan
Radish Chapati -Radish filling is used to make this

How to make Chapati
Ingredients: Atta powder – 2 cups     Ghee/Oil- 1 teaspoon, water, salt
1.       Add salt and ghee to Atta powder. You can use oil instead of ghee. Add sufficient water to flour while stirring. Don't dump all water at once. Instead, add water in a controlled manner as the powder evenly gets wet and turn into a mass.                                                                     
2.       Mix well using hands. Slowly add water in the final stage and continue mixing the dough comes together as a sticky mass. Keep kneading the dough until it gets soft.                             
The consistency of the dough is important. It shouldn't be hard or too soft. If it is hard, it needs a bit more water. If it is too soft, then is too much water so you need to add a bit more Atta powder.

3.       Settle for 10-15 minutes. You can make Chapatis with out keeping it to settle. However, for soft and nice Chappatis, you need to settle it.
4.       Make small balls. You may be able to make about 12 balls from 2 cups of dough. 

5.       Flatten the balls. You can use a chapati press and then flatten more using a Rolling Pin. Or you can use a roller alone. At first, you won't get the perfect round shape. With practice, you will surprise yourself by making perfectly shaped chapatis.
6.       Cook on a heated pan. While cooking, don't leave on pan for too long or it will get brittle and burnt here and there. To make perfect chapatis, turn the side on chapatti starts to cook. Don't wait till the side gets completely cooked.
7.       Serve with curry

Want perfect chapatis? Tips for making good chapatis
Good chapatis are soft. If dry and crispy, they become chewy and hard to eat.
Add 1-2 spoons of oil or ghee before kneading. Dough can be immediately used, however, keeping the dough to settle for 15 minutes to a few hours give it time to settle. This helps in softness.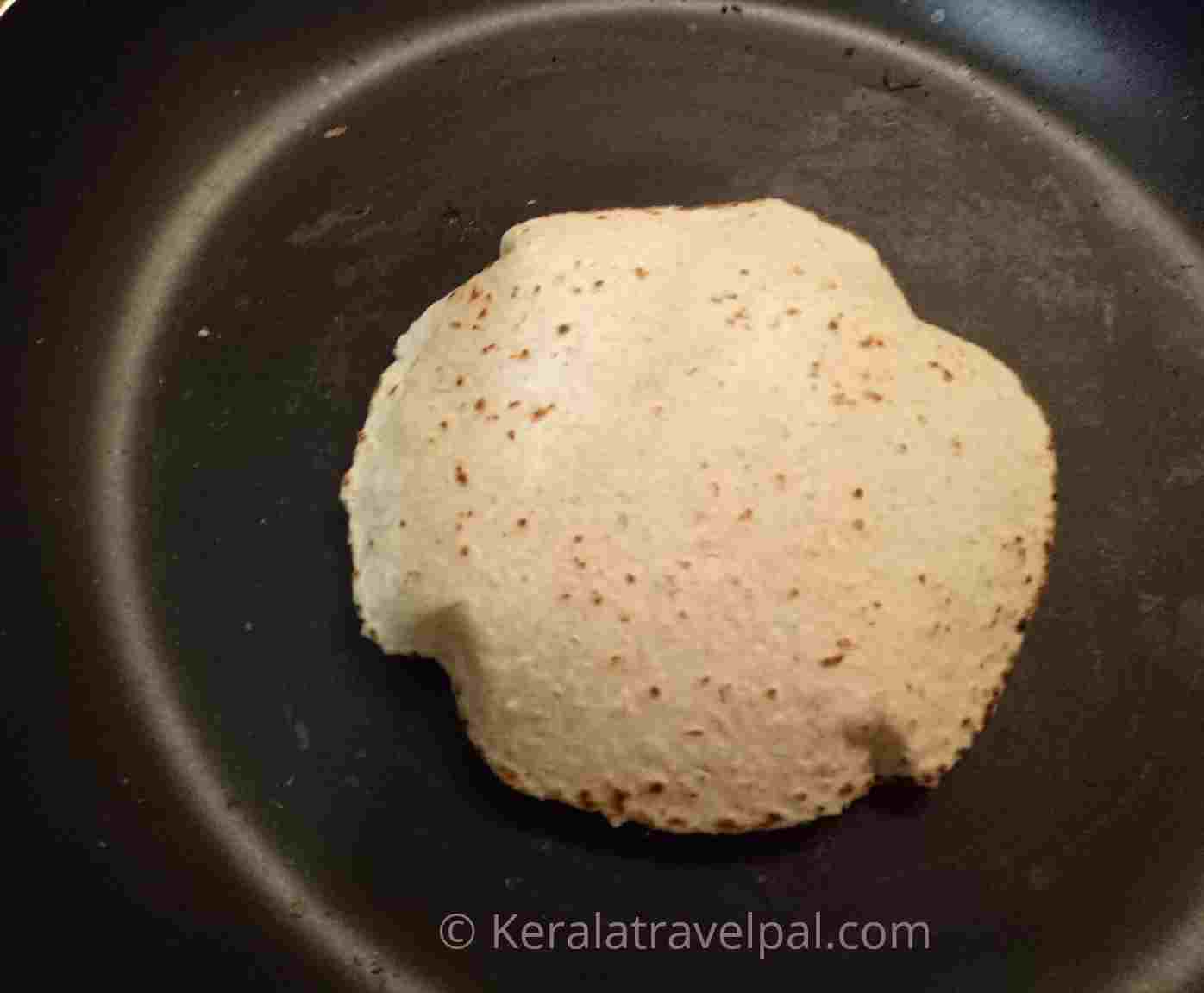 Chapati gets hard if it loses too much water while cooking. You need to turn the sides before the side get fully cooked.
The final part of the cooking, Chapatis are kept on direct fire to get them puffed. It is a delicate process. You have to be careful about not burning your fingers. Also, you have to turn the side in a few seconds. Only keep it on fire for the exact time needed.
While spreading the dough make sure the chappathi is rolled perfect. The edges should not be thicker.
To prevent Chapatis from turning dry, keep them in a casserole.