Chinnar Wildlife Sanctuary
Chinnar wildlife sanctuary is dissimilar to other sanctuaries of the hilly expanse of Western Ghats.
All the other sanctuaries in Idukki receive abundant rainfall. We find rain forests there.
Chinnar falls in the rain shadow region. Annual rainfall of about 500 m is mostly confined to the wet days of October and November.
Unsurprisingly, at Chinnar, we find thorny bushes and various Xerophytes. Surprising though is the sheer number of flowering plants - about 965 species in a rather dry place!
Occupying areas of Devikulam division of north eastern Idukki, the 90 sq km Chinnar WLS is part of a greater biosphere which includes Eravikulam, Indira Gandhi and Kodaikanal sanctuaries.
Animals
Chinnar Wildlife Sanctuary is the renowned protective land of Grizzled Giant Squirrel. A couple of hundreds found here is one of the largest populations of the highly endangered species anywhere seen.
Another star attraction is the star tortoise. White bison and mugger crocodiles are also notable rare species.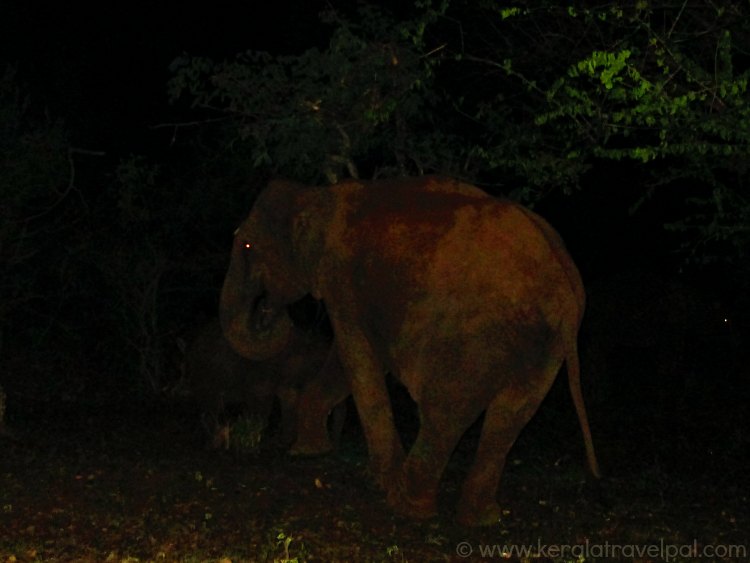 Animals seen here include elephant, gaur, tiger, deer, Nilgiri Tahr and bison and many more.

Elephant and bison populations are quite significant.

Chinnar Wildlife Sanctuary is a protective sphere for about 34 species of mammals, 22 forms of amphibians, 245 types of birds and 156 species of butterflies.

Local wilderness is a hot spot for reptiles. With about 52 species, Chinnar Wildlife Sanctuary is a leading reptilian habitat in Kerala.

Two rivers – Chinnar and Pambar- bring the much needed water for many of the inhabitants. They also sustain about 42 varieties of fish.

There is good chance to see animals while riding through Udumpanchola road that passes through the sanctuary.
Thoovanam waterfall
Located inside the jungle, Thoovanam waterfalls, is a great spot to trek to. Formed by River Pambar, the cascade is quite splendid.

There is chance to come across some animals during the 3 kms trek to the waterfall. Guides are required, and can be organised at the Forest Station at Karimutti.
Treks and wildlife watch
The watch tower gives panoramic views of vast expanse around and is a good place to spot wildlife. It is located within the forest, at a 15 minutes walking distance from the check post.
Various Jungle treks offered include river and waterfall trails as well as nature walk to Dolmens (ancient burial chambers).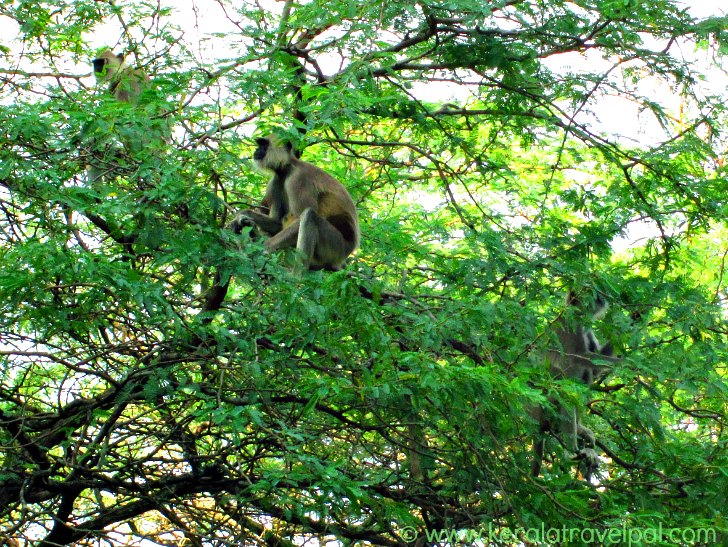 Tribal people and dolmens
Having lived here for thousands of years, Tribal people have become almost an integral part of this wilderness. There are 11 tribal settlements, each belonging to a distinct type of tribe.
There are also several dolmens or megalithic burial chambers in the area. More dolmens are scattered around Marayoor, famous for its sandal forests.
Marayoor -Udamelpett road passes through the sanctuary dividing it in two halves. This jungle path is also great to spot animals.
Accommodation
Overnight stay within the sanctuary has a few options. The usual choice is the Government Guest House and the dorms. Not so usual options include the tree house and the jungle cottage at Vysappara.
Tree house and the cottage offer great jungle experience. To enjoy it all, the nature lover in you may have to be ready to put up with basic amenities. For example, not all tree houses have toilets.
If you are checking in during afternoons, make sure about dinner arrangements. Not all places serve dinner. Also avoid carrying all your back pack through the forest. Not just inconvenient, it is very risky too.
The contact is:
The Wildlife Warden, Munnar division, Munnar-685612. Email: roywlw@chinnar.org, emppmunnar@sify.com
Are you are contend with just a day time visit to the sanctuary? Munnar is the most obvious stay choice then. Or of a change, you could try some other hill station such as Devikulam. Kanthalloor, the orchard village near Chinnar is also excellent, especially for farm stays.
Nearby tourist spots
Marayoor, the land of natural sandal forests is only 18kms away. In addition to sighting sandal forests, you could also visit Dolmens (ancient burial chambers) and the local Sharkara (Yellow sugar) making unit.
Kanthallor is another interesting spot to visit.
A region bestowed with great natural beauty, Kanthalloor is the only place in Kerala where apples grow. Not just apples, the local orchards grow a wide variety of fruit and veg.
Cool climate and fine scenery make it a place to chill out for a day or two.
How to reach
Chinnar is in north east corner of Idukki, about 60 kms north of Munnar. No matter where you are coming from, have to take Munnar - Udumalpet highway.
_________________________________________________________________
Chinnar Wildlife Sanctuary - Facts at a glance
Location: Central Kerala

District: Idukki
Nearest towns: Marayoor at 18 kms and Munnar at 60 kms.
Bus Station: Munnar at 60 Kms.
Taxi Hire: Munnar Town at 60 Kms.
Railway Station: Eranakulam Railway Station at 130 Kms.
Air port: Cochin Int'l Airport (COK) at 150 Kms.
Food Options: No restaurants near the Sanctuary. Restaurants at Munnar.
Accommodation Options: Guest House, Dorms, Tree house and Vysappara Cottage. All of them need booking in advance. Alternatively you could stay at Kanthalloor, Munnar or other towns/ resorts in Idukki.
Best time to visit: Throughout the year except October and November.
Nearby Attractions: Marayoor sandal forests, Dolmens, Kanthalloor are within 20 kms. Tourist spots in Idukki are Periyar Tiger Reserve, Kumali, Munnar, Devikulam, Peerumedu, Eravikulam National Park, Mattuppetty, the Arch dam, Idukki wildlife sanctuary, Anamudi, Eco Point, Top Station, Waterfalls of Cheeyappara, Valara, Thommankuthu, Keezharkuthu, Attukal and Chellarkovil, Carmalagiri elephant walk, Anachal, Malankara reservoir, Mangala Devi Temple, Meenuli, Kundala dam and Kalvari Mount.
Return from Chinnar Wildlife Sanctuary to Kerala Wildlife Sanctuaries page
Back to Keralatravelpal home page