Kerala Snacks - what should I know about them?
People in Kerala love to snack. That has something to do with the active social life where friends and family often visit one another.
India's guest treating culture is based on "Adhithi Devo Bhava" which means Guest is your God. People tend to treat their guests with respect and care. In Kerala, it is customary to offer tea and snacks to people visiting them. Every kitchen pantry keeps some snacks at all times.
Snacking with evening tea have become a way of life. How can people resist the temptation when there is such a rich array of snacks easily available? Some people even have a mid-morning tea around 11 AM.
Snacks come in all colours, shapes and tastes. Savoury, sugary, spicy, soft, crunchy – and so on.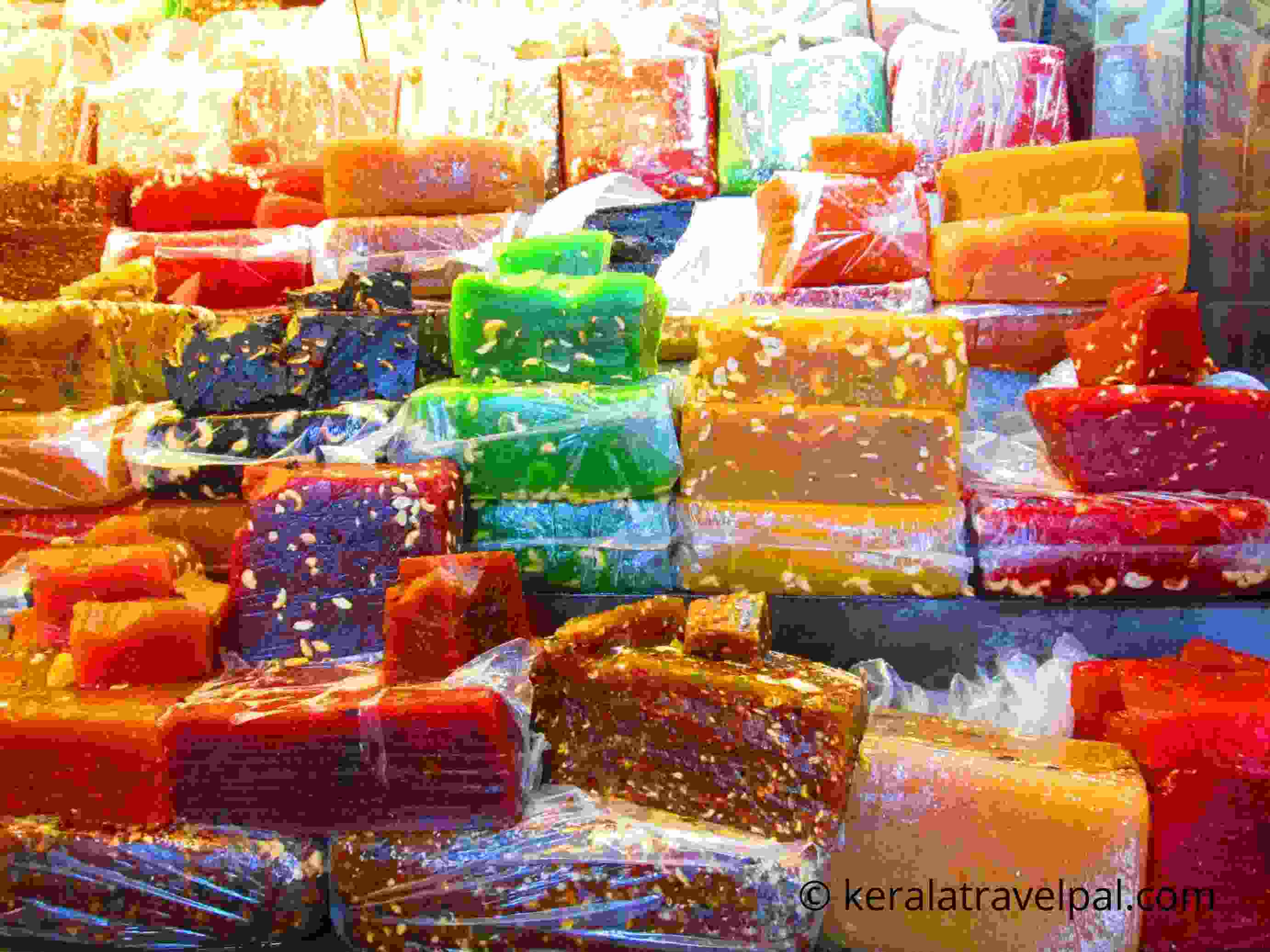 Bakeries
Bakeries are the places to buy snacks. Bakeries in Kerala are not the traditional bread houses. They sell a wide range of snacks including biscuits, cakes and traditional Kerala snacks. Don't expect all snacks to be available there. Some are purely homemade while a few items are available in restaurants and tea shops.
The love of Keralites for snacking is readily recognisable just by looking around. There are Bakeries everywhere. Every street has them, even in small towns you will find many. There are streets full of them like S.M Street in Kozhikode.
Not all bakeries are the same. Even though products look exactly the same, there can be considerable difference in quality. Bakeries that sell high quality products enjoy good local reputation. So, explore or 'snaxplore'. Worth asking someone you trust about the best quality bakery around before embarking on a shopping spree.
Supermarkets stock wide range of snacks. Restaurants sell many finger food items such as Vada, Bonda and Sukhiyan.

Types of Kerala snacks
Two most popular snacks are Banana Chips and Mixture (Micher). 

Banana chips

Kerala is full of bananas. Every household grows them. Native bananas are called Nedran or Nedrakkai. They are large bananas, good for frying and steaming. They are also ideal to make banana chips.
Unripe bananas are usually used for making banana chips. Chips made from semi ripe bananas are also available in the market.
Banana chips are available in many countries. Then, why is all this fuss about banana chips?
Kerala banana chips are far better in taste. They are in a league of their own. There is no comparison really. Try and find out.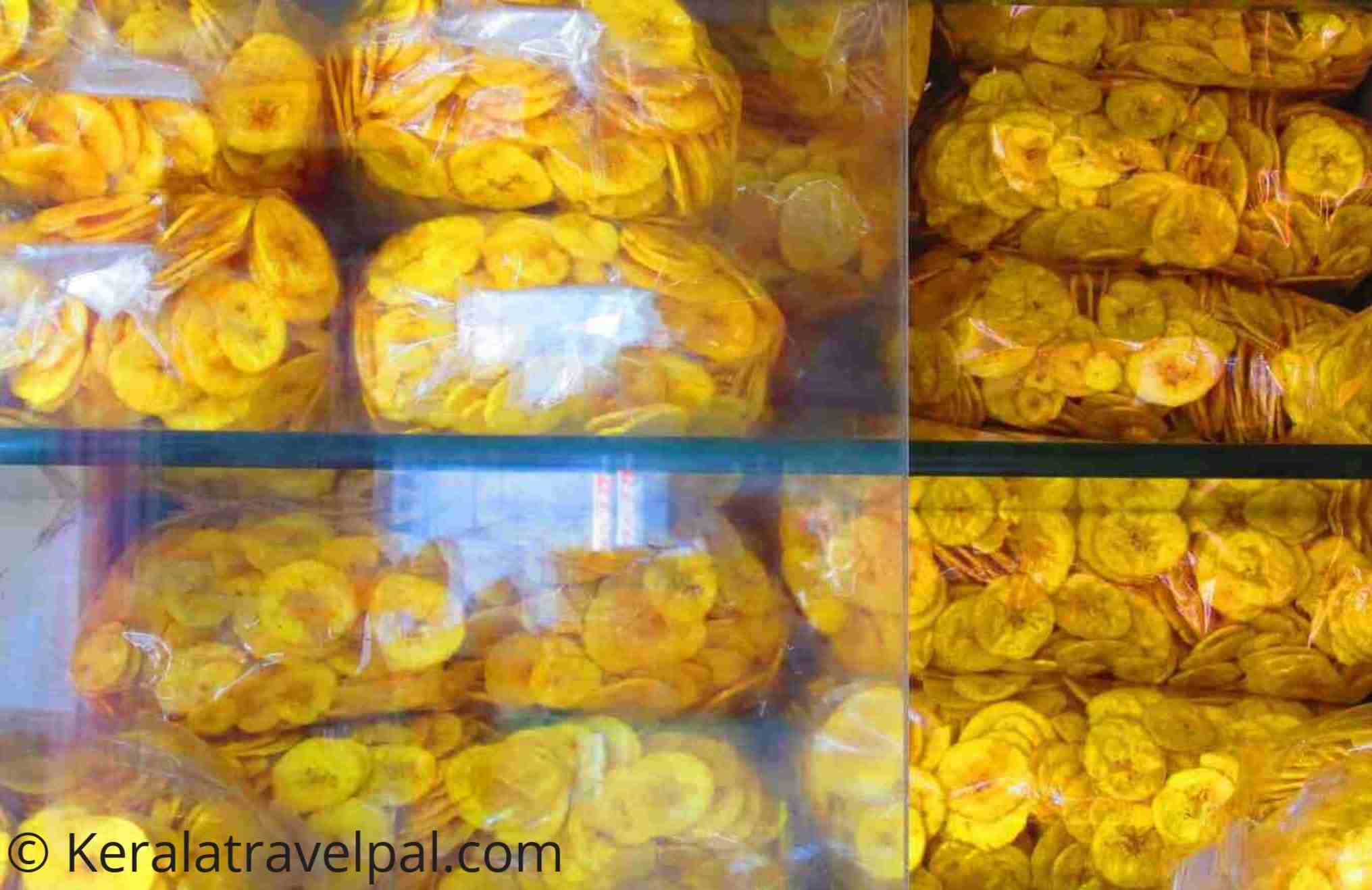 Mixture is one of the most popular snacks in Kerala. It is called Mixcher or Micher locally. It is the Kerala version of Bhuja Mix, spicy and tasty. There are different varieties available including flaming hot ones.
While Banana chips and Mixture enjoy overwhelming support, there are many more snacks that are as good and well liked. Personal tastes vary, so every individual has their favourites.


Other chips

Other than Banana chips, Kappa (cassava) and Jack Fruit chips are popular. Kappa or Kolli chips comes in three shapes- slender long cut, broad long cut and thinly sliced. Bakeries stock Chilli and non-chilli versions.
Sharkkara Varatti or Sharkkara Upperi is banana chunks coated with sugar. The crunchy snack is a part of Kerala type Thali lunch.

Vada and similar snacks

Vada is a food group of fried finger food. They go well with tea and coffee. They are served in restaurants as entrees or light snack. Bakeries and tea stalls sell them too.
Parippu Vada, made from lentils, is a huge hit. Rainy evenings are there for a reason - to have hot cup of tea with Parippu Vada.
Uzhunnu Vada is a donut shaped snack, made from black gram. It is served in restaurants with Dosa, so you may have already seen it or even tried it.
Pappada Vada is Pappad ingeniously disguised to make a tasty snack. It is a favourite item of small tea shops.
Ulli Vada is nothing other than Pakodas you find in North India. Onion, batter and spice mix is deep fried. The batter mix ends up as irregular balls which makes tasty treat with tea.
Sometimes Ulli Vada is called Bhaji. However, in the true sense, Bhaji is any deep-fried veg. The most popular one is Mulaku Bhaji (Mirchi Bhaji), large green chillies coated with gram powder and fried in oil.
Bonda is a fried snack made in homes and also available in restaurants. Round in shape, it is filled with potato stuffing.
Sukhiyan (Sugiyan) is a sweet snack. Its shape is similar to bonda, but there ends the similarity. It is made with Moong Dal stuffing and considered healthier than other fried food.

Appam

Appam is broad name that include a wide range of food items, including breakfast dishes as well as snacks.
Here we are only looking at the snack type of appams, which are either pancakes or fritters. These traditional food items are generally homemade. Small restaurants and tea shops sell a couple of them.
Neyyappam is traditional Kerala fritters made of rice flour, jaggery, coconut and cardamom. Mums vary this mix by adding some ripe bananas to make Unniuappam. Ball shaped Unniyappam has little resemblance to its cousin Neyyappam.
 Kinnathappam and Unnakkaya are two other homemade delicacies in this category.

Ada

They include steamed rice cakes as well as Kerala version of dumplings. With slight variation in preparation, one can make Ada as non-sugary breakfast food or as entirely different sweet snack.
Snacky Adas are soft and whitish on the outside and filled with sweet stuffing made of coconut, jaggery and cardamom. They are wrapped in coconut leaves and steamed. Hence called Ila Ada (Ila means leaf)
Kozhukkatta is rice dumplings filled with coconut and jaggery mix.

Fried fruit

The most popular in this category is Banana fritters (Pazham Pori). This easy to make food is one of the items served with tea for unexpected guests.  It is hugely popular too. Restaurants and tea shops sell them.
Sliced ripe bananas fried as such in oil or ghee is an entirely different type of snack. Kerala type of Nendran bananas are quite good when steamed. It is usually a brekky item that goes well with Puttu.
Ripe jack fruit fried in oil is yummy. It is an occasional item since Jack fruit is not available always. 

Sweet Snacks

While many of the above snacks are sweet, their sweetness pales in comparison with the items below.
Laddu (Laddoo) is one of the most recognisable Indian snacks. People distribute them during birthdays and happy occasions. You will find piles of Laddu balls of yellow, red prominently displayed on bakeries all over Kerala.

There won't be any trouble to find displays of stacks of Jilebis. They do look very attractive on the display cabinets.
Halwas are also called sweet meat for their texture. They are very sweet and oily. They come in a range of colours. Black is the king. Halwa from Kozhikode, Kozhikoden Halwa, is considered to be the best.
Peda and Mysore Pak are the other two important snacks for those with sweet tooth. Similar to Laddu, they also originated in other parts of India.

Nuts

The street vendor pushing the cart has the best tasting peanuts. Period!
Other than usual salted and roasted peanuts, spicy and sugary varieties are also widely available. Different types of Peanut Slabs and balls are also common.
Sesame snaps and sesame balls (Ellunda) are also popular.

Meat snacks

Meat based snacks include Cutlets, Samosas and Puffs. They also have veg and egg versions. Avoid buying long life meat products since there are often complaints about the quality of these meat. 

Egg based Kerala snacks

Egg coated Bread slices are simple to make and delicious. They are healthy as well. Other egg-based items are Mutta Maala and Mutta Surka. 

Other snacks

Murukku is brittle rice flour spirals. Different types are available. Mothiram Murukku is finger ring shaped, slightly sourish, brittle snack made of black gram powder.
Avalose Unda and Avalose Podi are variations of a rice powder-based snack. It is also called Pooram in some parts of Kerala.
Chukkappam is tiny button shaped fried snack. Often homemade. Andy Pittu is balls made of cashew nut, rice powder and jaggery. Aynas is large and impressive looking, yellow Kerala snack. It is crispy with several sugar laden layers.
Achappam and Kuzhalappam are two other traditional Kerala snacks.
Flattened rice or Poha is called Avil in Kerala. It is converted to a delicacy by adding coconut shreds and a sprinkle of sugar.
Puffed Rice (Pori) is also available as such. Puffed rice is rolled to make Pori Unda, which is sweet and brittle.

Which Kerala Snacks should I try?

If you are in only for a couple of days, stick with the safe ones. Banana chips are ok. Kappa (Cassava) and Jack Fruit chips are ok too. There is little chance to get tummy issues from these.
Banana fritters is an ok to eat food too. It is just banana pieces coated in batter and fried. Steamed bananas are fine to have as well.
If you are in for many days, then there is the opportunity to experiment as you wish. 
From Kerala Snacks to Kerala food Page