Kovalam Beach
The beauty of Kovalam beach has captivated travellers as early as 1930's.

Since becoming a hit hangout for hippies in the 70's, Kovalam witnessed a steady influx of tourists. In the last two decades, this primary beach strip in southern Kerala gained recognition as an international tourist destination.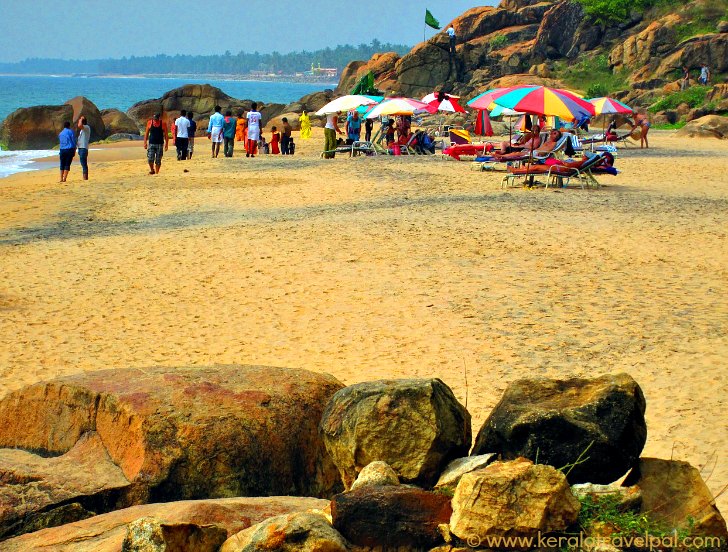 Such endorsement brought in crowds and development.
Not all expansion has been in line with preserving the virgin splendour of a sleepy beach side village. Nevertheless, the beautiful beach is still attractive enough to draw plenty of fans.
The delight of Kovalam is a shallow natural bay inviting enough to take a pleasant quick dive. This protective cove is shaped up so by a massive promontory.

Sea and sand are set against the backdrop of black rocky cliffs in an area surrounded by coconut groves. The sight is quite pleasing to eyes and refreshing to mind while the gentle sea breeze cools off a typical hot Kerala day on beach.

Kovalam means the grove of coconut trees. Seeing the endless rows of coconut trees along the nearby shores, you may wonder how else this place could be named.
The three beaches

To the beach lover's delight, there are 3 distinct beaches in Kovalam.

Most prominent of the three, is the southern beach harbouring Vizhinjam light house. Commonly called the light house beach, it draws most tourists and harbours most beach side establishments.

The middle one used to be a topless beach, the first of its kind in India. So, it was named Hawa beach (or Eve beach). There is a ban on topless bathing nowadays. Nonetheless, it is an active sun bathing spot.

The northern most of the beaches is the smallest and is called Samudra. It is the local fishermen's area with black boats resting on the beach. It attracts weekend crowds, mostly locals.

Due to past inappropriate behaviour, considering beach goers best interests, photography is prohibited at certain areas.

Beach sand here is partially black due to the presence of mineral sands. Also, sporadic formations of coral reefs are present near the coast.

Kovalam beach strip is shallow and you can walk scores of metres into the waves. Water gently splashing at the crescent shaped beaches is usually calm. However, there are undercurrents, notorious for sweeping inexperienced swimmers to outer sea. 

Life guards are present. Heeding to safety instructions itself goes a long way in making memorable Kovalam holidays.

Activities

Popular beach activities at Kovalam are swimming, sunbathing, surfing, snorkeling, water sports and catamaran cruising.

Catamarans are small wooden boats with a skipper who uses a single wooden ore to propel. They take people for a joy ride in the shoreline waters.

Kovalam beach has a tradition of night bon fires. Such parties are great fun with families and friends singing, dancing and chatting around fire.

Colourful art performances such as Kathakali and dances enliven Kovalam evenings.

Several of the beach side Ayurveda, yoga and herbal body massage places are dedicated to repairing weary bodies.

The shopping precinct, in addition, has several restaurants and many shops that sell carpets, clothing, and souvenirs and more. There are several money exchanges on the beach side as well.
The Beach light house

Kovalam Beach light house, also called Vizhinjam light house, is open to public during 3-5 PM daily. View from top of the 35 meter tower extends to Beema Palli and picturesque Poovar.

The red and white striped light house, located on a hillock called Kurumkal, overlooks the sands of southern beach.
Food

Food is an important part of Kovalam vacations and beachside restaurants live up to it with delectable food choices of Indian, Chinese and Western dishes. Sea food is fresh as it is just caught from the sea and grilled sea food is popular.
Accommodation

Accommodation choices here are many and varied. Luxury beach resorts, hotels, budget lodges and home stays are here to meet varying needs as well as budgets.
Negatives

Kovalam has its share of negatives such as crowded concrete structures, stray dogs, persistent hawkers and touts. On the bright side, the captivating beauty of Kovalam is intense to overlook those negatives.
How to reach

Conveniently located at just 16 kms from Trivandrum, Kovalam is well connected to the capital city by frequent bus services. The beach can be accessed by a hired taxi or Tuk-Tuk by about half an hour from Trivandrum.
Kovalam beach - Facts at a glance
Location : South Kerala

District : Trivandrum

Nearest towns : Trivandrum at 16 Kms

Bus Station : Trivandrum at 16 Kms

Railway Station : Trivandrum at 16 Kms

Air port : Trivandrum Int'l Airport (TRV)

Food Options : Diverse kinds of eateries in plenty, near the beach.

Accommodation Options : Several resorts, hotels, lodges and homestays near the beach as well as scattered all around.

Nearby Attractions : Poovar beach, Pozhikara Beach, Vizhinjam Rock Cut Cave Temple, Napier Museum, Kanakakunnu Palace, Sree Padmanabhaswamy temple, Kuthiramalika Palace Museum, Sree Chitra Art Gallery, Neyyar Wildlife Sanctuary, The Akulam Boat Club, Veli tourist Village, Ponmudi, Agasthyakoodam, Pareekshit Thampuran Museum, Kanyakumari, Koyikkal Palace and Trivandrum City (shopping, food & fun).
Return from Kovalam beach to Kerala beaches page
Return to Keralatravelpal home page