Nilambur tourism - what to see and where to go?

Nilambur tourism is on a swell, thanks to great geography and the potential to cover several tourist places in one go.
If you are on a day tour, the best places to visit are those in easy riding distances from the town such as the Teak Museum and Connolly's plot. You may also keep aside a couple of hours for Adyanpara, one of the best waterfalls in the region.
You can cover all the tourist attractions in Nilambur a couple of days.
Devoting a few days to here may depend on your sightseeing intentions, travel plans in other parts of Kerala, the climate etc.

In peak summer, when the streams and waterfalls have dried up and the weather is hot, you may only get a watered down hill station experience.
The following are the tourist attractions in Nilambur and surroundings-
Connolly's Plot
Connolly's Plot, the oldest teak plantation in the world, is just 2 kms from Nilambur town. Teak plantations were created in Nilambur area during the 1840's and the subsequent decades to supply wood to ship building yards in Britain. Henry Connolly, the Malabar district Collector of those days, took an active interest in creating this plot. Hence the place is named after him.
There are several large trees in an area of 2.31 hectares beside river Chaliyar. The largest tree is about 420 cms in diameter.
The hanging bridge
To reach Connolly's Plot, you have to walk through a long hanging bridge over River Chaliyar. The suspension bridge, just over 140 feet, is the largest of its kind in Kerala. Needless to say, the bridge sways when people walk on it.
Teak Museum
A short ride from town will take you to a museum devoted to teak. This is a world's first, where you will find a treasure of info as well as interesting artefacts. A bio resources park functions in association with it as well.
The garden and the pleasing surroundings with bamboos, butterflies and fresh cool air are also worth mentioning.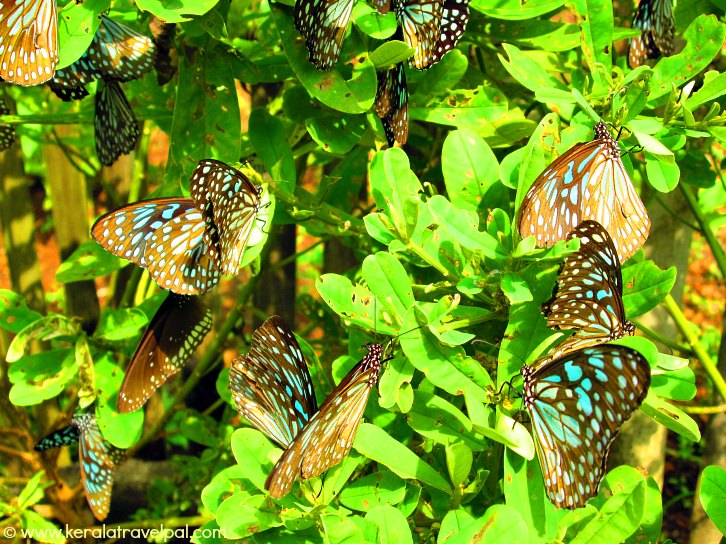 Butterfly garden at Nilambur Teak Museum
Pottery village at Aruvakkode
Another highlight of Nilambur tourism is the traditional pottery village where about a hundred families are engaged in making pots and clay objects.
When steel pots became widely accepted, clay pot sales declined thus threatening the livelihood of people of the village.
K B Jinan, an activist cum designer intervened. He initiated Kumbham handicraft project which became a creative inspiration for the skilled artisans.
People at Aruvakkode became innovative at transforming clay to a wide range of useful products. From their imagination, murals to mirror frames were born out of clay.
The pottery village is one of the rare examples where an isolated community of traditional producers has succeeded against the onslaught of globalisation.

Adyanpara waterfall
One of the major attractions of the region, Adyanpara is about 10 kms from town. The best time to visit is after the rains when the water flow is impressive and there is no rain to spoil your plans.
There are visitors even during summer when the fall is almost dry because the location is nice and peaceful. Also, there is opportunity to walk over the rocks which is not possible when the rocks are wet and slippery.
Nilambur Kovilakom
Kovilakom (also Kovilakam) is the residence of the erstwhile local rulers, Nilambur Rajas. Kovilakom is just on the outskirts of town, only a few hundred metres from Government hospital.
Rajas, the admin representatives of the main king, Zamorin of Calicut, ruled the region for hundreds of years.
Kovilakom is the by the side of River Chaliyar. There are several residences inside a large two storied gate where the descendents of the rulers live. Some of them are ancestral buildings in traditional Kerala architecture while others are modern buildings.
In the vicinity is Vettakkorumakan temple, a 200 year old shrine, dedicated to Lord Siva in his Kiratha (tribal) form. The six day festival (Pattu Ulsavam) held annually at the temple is an important event in local social life.
Kakkadampoyil
This hilly retreat, about 24 kms from Nilambur, puts on a misty cover now and then. The views are great when the mist is not too near.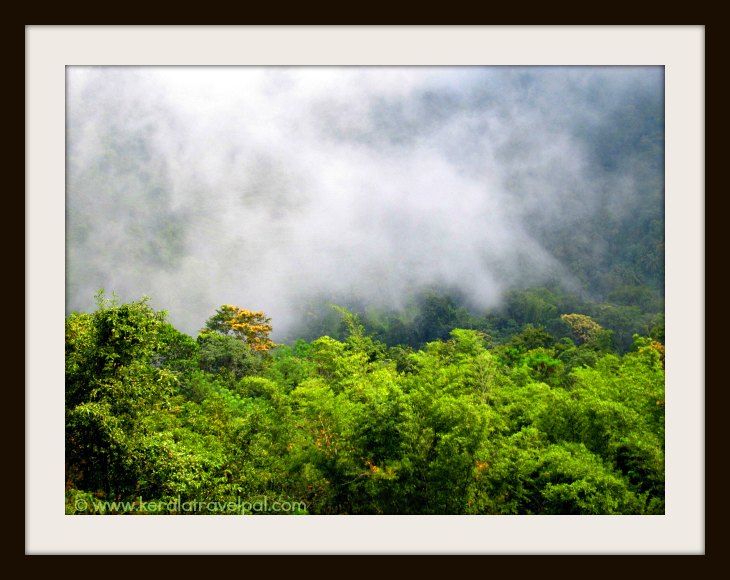 There are some good trekking spots. One such location is Kozhippara waterfall, where you can have a dip in the water and trek alongside the stream.
Nedumkayam
If you want to see wildlife, one of the best places is Nedumkayam, where animals such as bison and elephant thrive in the rain forest. You need permission from the forest department for access. Nedumkayam, about 15 kms from town, also has a government guest house.
Elambalai hill
This is another location rich with animals such as monkey, deer, bison and elephant. Located along Kerala state border, it is also the origin point of River Chaliyar.
Central Forest Nursery
Located north of town near to the river, the nursery has good variety of saplings and young plants for sale.  This is one of the four nurseries set up by the Forest Department of Kerala.
Bungalow hill
This is a scenic location in town where ayurvedic herbs flourish alongside the road. Old cottages up the hill now serve as forest department offices.
Vaniyambalam
Vaniyambalam was known for its teak depot and wood sales. Nowadays it is on Nilambur tourism map for a gigantic rock, spreading over 32 acres and having a temple built on top.
Vazhikkadavu
Vazhikkadavu is a small town near the state border, about 20 kms north east of Nilambur.
Travel through the ghat road that starts after Vazhikkadvu is an awesome experience. The road is through the hills and forests and there is chance to see animals.
The road takes you to Nadukani in Tamil Nadu, about 20 kms from Vazhikkadavu. Nadukani pass is often included among tourist attractions of the region.
Other tourist attractions
If you have time, there are many more sightseeing spots.
Karumbikotta, Mooleppadam countryside, the trekking tracks of Munderi, Kavankallu water regulator and reservoir, Amarambalam reserve forest and Pullangode rubber estate are some of them.
If you travel to Nearby Manjeri, you can witness the life of Cholanaikan tribal people, who belong to the local forests.
Travel from Shornur to Nilambur in a train is also a delightful experience thanks to picturesque landscapes.
Return from Nilambur Tourism page to Malappuram page
Back to Keralatravelpal home page