Thommankuthu waterfalls

Thommankuthu waterfalls is among the best cascades in Idukki.
Thommankuthu, a beautiful eco tourism destination, has a series of waterfalls. In addition, there are several caves and viewpoints.
To cover most of it, you need a 12 kms trek up the hill and through the woods.
Most tourists are happy to visit just the bottom two falls, Thommankuthu and Ezhunilakettu. Other few, who continue forward, are rewarded with a memorable experience. Whether you walk a long way or have a short stroll instead, will be delighted to see nature at its best.
Thommankuthu is only 18 kms from Thodupuzha, one of the major regional towns. 
The seven stepped waterfall is a major attraction of the region.
There are also small cascades and rapids that certainly contribute to the look and feel. Multiple waterfalls means multiple pools. 
Tempted to take a dip?  Go ahead, look for safer spots though.
Thommankuthu attracts nature lovers and adventure seekers. Nature lovers get the perfect opportunity to feel the coolness of mountain stream, take in the aromas and enjoy the woods. Adventure seekers find avenue for some exciting trekking. The Best if you are both!

Entry to Thommankuthu waterfall area is restricted to the hours between 10:00 AM and 6:00 PM.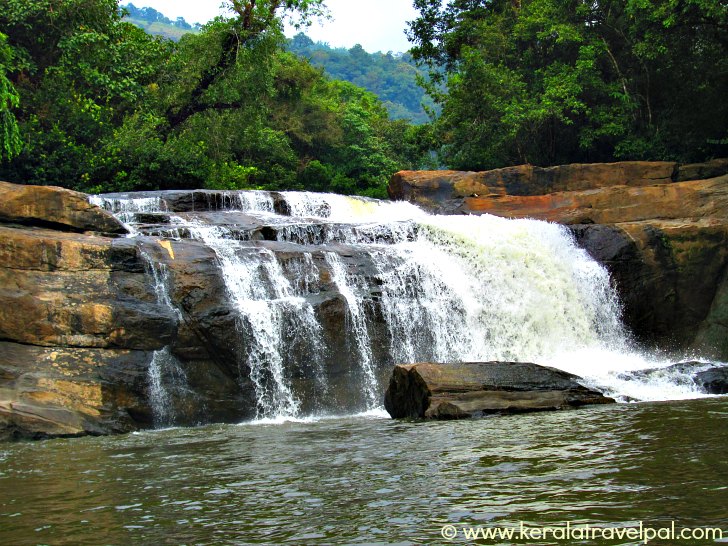 Thommankuthu waterfall
Trek to the top
Arrange a local guide if you want to trek to the top of the mountain. The  trek is about 12 km and through hilly terrain and forest. Tackling a few formidable rocks is also part of the challenge.
Up for grabs is the opportunity to enjoy pristine nature, several waterfalls included.

Caves alongside mountain paths bring a bit of excitement to the moments of weariness. There is also chance of spotting some monkeys and interesting birds.

There is a tribal village up the mountain. A rather lengthy 14 Kilometers trek takes you there. This trek requires prior permission from the Forest Department. They send a Forest Guard as escort as well.

Here is the list of waterfalls, caves and view points at Thommankuthu -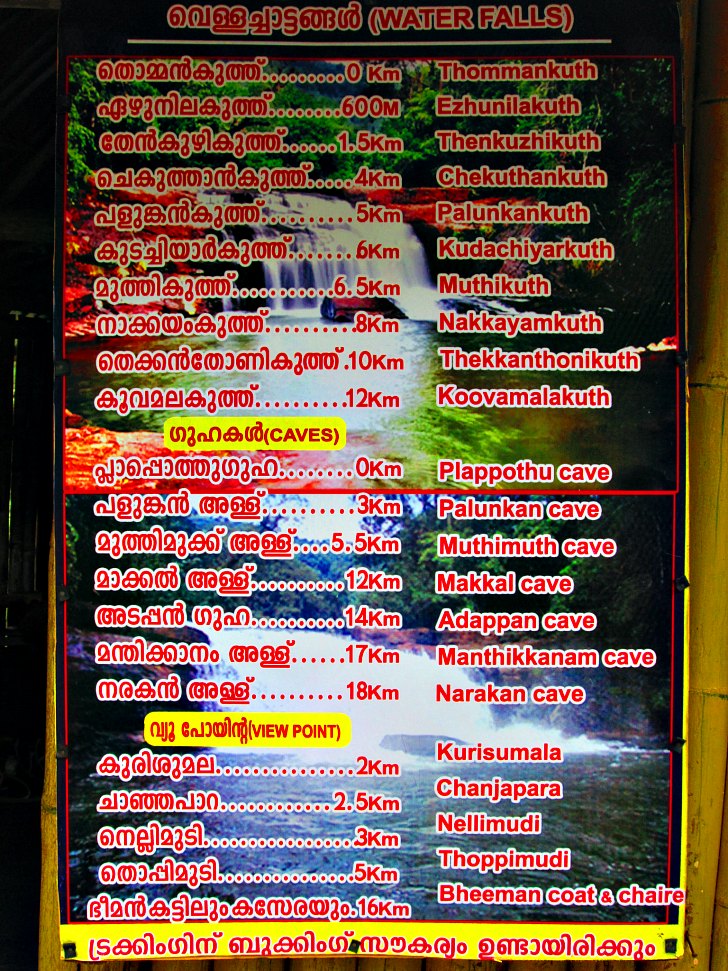 Other activities

Visitors to Thommankuthu waterfalls can also enjoy boating in the nearby lake. Fishing is popular too. There are places in the valley where tourists engage in horse riding.
The surrounding of Thommankuthu is gaining popularity as a camping spot.
Because of all these possibilities, Thommankuthu is a great picnic spot. Already attracting plenty of visitors, its popularity is increasing, thanks to great many falls within a small area.

To heat up interest further, Government has already recognised this Kerala waterfall as an eco-tourism area.
They also ventured a new initiative named Chitrakkoodam to enhance the the feel of the place with some tourist friendly facilities.

Accommodation
Accommodation is limited to a few small outfits, near the waterfall area. The best place nearby for stay is Thodupuzha. There are several lodges and hotels in this vibrant town.

How to reach

There are regular bus services that take you from Thodupuzha to the waterfalls. From Thodupuzha, take Munnar bus that goes through Thommankuthu.
Thommankuthu waterfall - Facts at a glance
Location : South central Kerala
District : Idukki

Nearest towns : Thodupuzha at 12 kms and Karimannoor at 8 Kms.

Bus Station : Thodupuzha Bus Station at 12 Kms

Taxi/ Auto-rikshaw Hire : Thodupuzha at 12 Kms

Railway Station : Cochin at 60 Kms and Kottayam at 60 Kms.

Air port : Cochin Int'l Airport (COK)at 80 Kms.

Food Options : Restaurants at Thodupuzha (12 Kms).

Accommodation Options : Limited accommodations near waterfall. Several lodges and hotels at Thodupuzha.

Best time to visit : September to May. Can be visited year round; beware of slippery condition during wet season.

Visiting hours : Waterfall entry is restricted to 10:00 AM to 6:00 PM.

Nearby Attractions : Keezharkuthu Waterfall, Cheeyappara and Valara Waterfalls, Thekkady, Kumaly, Malankara Reservoir, Mangala Devi Temple, Meenuli, Chellarkovil, Palkulamedu Peak, Ramakalmedu Peak and Kalvari Mount.
Return from Thommankuthu waterfalls to Kerala waterfalls page
Return to Keralatravelpal home page