Waterfalls in Thrissur

If you are visiting Guruvayoor or spending a few days at Thrissur, keep a day aside for Athirapally and Vazhachal waterfalls. Athirapally waterfall in Thrissur is one the mightiest falls in India itself.
Located at the south eastern part of the district, Athirapally - Vazhachal attract a fair amount of tourism crowd, from all over Kerala and even beyond.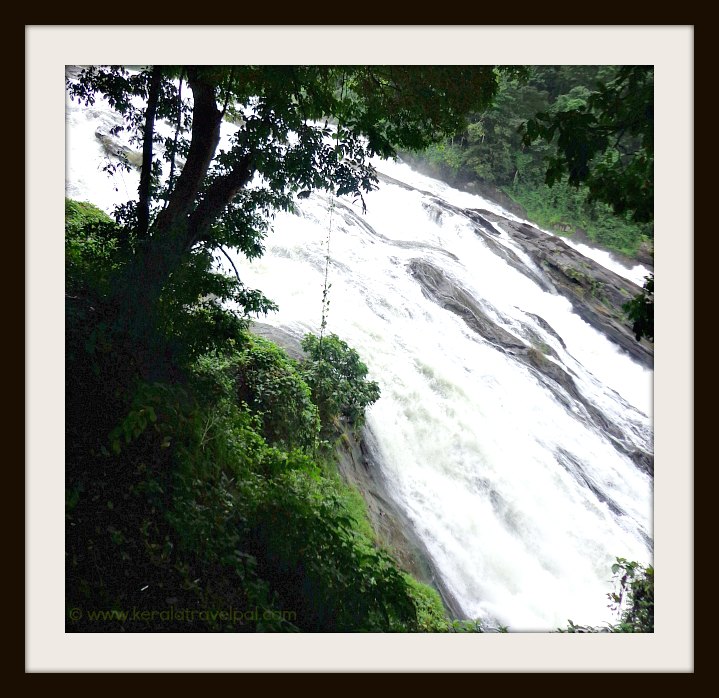 Vazhachal waterfall
Marottichal is a greenish location just about 15 kms from Thrissur town. Inside the forest there are a few waterfalls including Olakkayam and Ilanjippara. Not a lot of people know about them, even in Thrissur.
Currently they are visited only by groups of youngsters, who also have adventure trek in mind.

Athirapally waterfall
Created by scenic hills and gurgling waters, Sholayar basin is a joy to watch. Athirapally, the well known highlight is a voluminous fall that never dries up.
Athirapally is about 60 kms from Thrissur town. Take the highway to Cochin (NH 47) and turn left from either Petta or Chalakkudy.
The distance from Chalakudy to Athirapally is about 32 kms.
Vazhachal waterfall
After visiting a waterfall there is reason to wonder why to visit another one straightaway. You may have similar thoughts while visiting Athirapally because Vazhachal waterfall is just 5 kms away.
There are reasons  why not to miss Vazhachal. The location is absolutely fabulous. Vazhachal is a horizontal fall. You may even describe it as a speeding stream.  It is no way similar to Athirapally is a great reason to drive further 5 kms and spend some time here.
Do not carry snacks or fruit in your hand at the entrance area because roaming monkeys will snatch it from your hands. It happened to my son. Luckily he did not get scratched.
Let me also add that Vazhachal is a great place for food picnics. It is great to sit in the vicinity of the waterfall and enjoy food. And there are no monkeys to disturb you there.
Charpa waterfall
This is a road side waterfall near Athirapally. Nothing spectacular, however good enough to stop the car and have a short break.
Waterfalls at Marottichal
The waterfalls at Marottichal have so far stayed as a local secret.
This small village on the fringe of Peechi forest can be reached by bus or car. The waterfalls are inside the forest.
This is a location where you should go in groups and with guides who know the landscape. There is chance of elephant encounter as you will be walking by the side of streams where they occasionally visit to drink water. There are no clear paths and the trails that do exist are confusing.
The first couple of falls are small and within 10 minute walk from the bus stop.
Cheerankundu Kuthu and Olakkayam are within 10 minutes walking distance from the bus stop at Marottichal. The path by the side of the canal leads to there. Olakkayam is a refreshing place where you can step into the water and take a bath.
Ilanjippara, the largest waterfall, is about 4 kms from Olakkayam. The trek is through the forest takes about an hour. At Ilanjipapara, the stream flowing down as multiple patches along rock clusters, is a remarkable sight.
The waterfalls at Marottichal dry at Summer (Mar- May). June and July are not the best time because of the heavy rains. The best time to visit is between September and February.
Return from waterfalls in Thrissur to Kerala waterfalls page
Return to Keralatravelpal home page