Waterfalls near Cochin

The port city of Cochin is also the gateway to Kerala. Most visitors arrive, depart or stay here during their travel.
Cochin has a range of tourist attractions including backwaters, beaches, heritage sites and shrines. However, there are no waterfalls in Cochin town or its close vicinity.
Ernakulam, the district to which Cochin belongs to, has a couple of waterfalls on its eastern side. However, the best waterfall to visit in the region is Athirapally, which is on the Sholayar basin up north.
Athirapally waterfall
Athirapally, the largest waterfall in Kerala, is one of the spectacular falls in India itself. Reaching this marvellous location by car can take a couple of hours or 70 – 80 kms, depending on which route you want travel. Read more
Vazhachal waterfall
If you are travelling all the way to see Athirapally, do yourself a favour and visit Vazhachal too. Many people skip Vazhachal and that is a shame because the place is truly spectacular and only 5 kms from Athirpally.
This region has several tourist attractions including Malakapara tea Gardens, Thumpurmuzhi Gardens, Dream World theme park, Silver Storm Theme Park, Vachumaram, Anakkayam, Peringalkuthu Dam and Sholayar Dam.
While most people visit Athirapally on day tour, staying a day or two in this refreshing part of the world is not a bad idea either. Read more
Thommankuthu
Another interesting place to visit for waterfalls is Thommakuthu. Thommankuthu has a series of waterfalls and caves, scattered along the hills and hence requiring long treks.
Thommankuthu is a part of Idukki district. From Cochin it takes about 2 hours to reach there. The distance is about 74 kms. Read more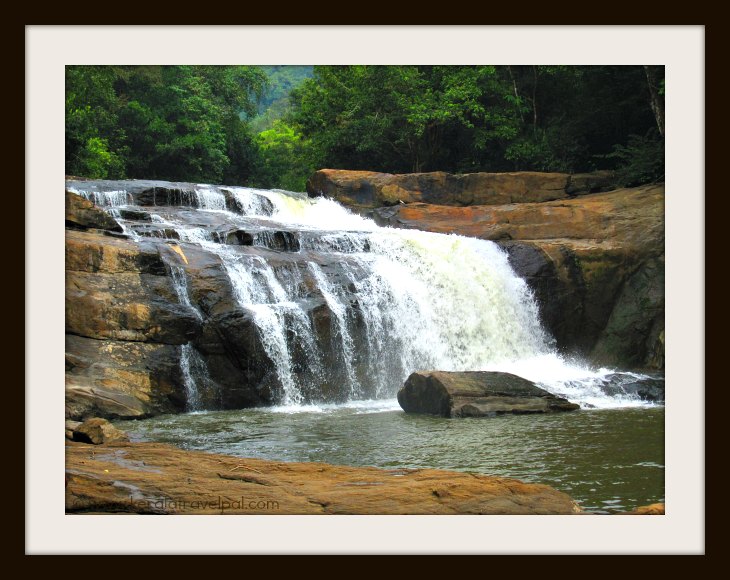 Thommankuthu waterfall
Cheeyappara waterfall
If you are travelling to Munnar, Cheeyappara is a cascade en route, where you can stop the vehicle, take a short break and appreciate the views while sipping coconut water. There is no scope for bathing or picnicking here. During summer, water reduces to a trickle, so unimpressive that you may not even bother to stop the car.
Valara is another waterfall about 10 kms further along the highway.
Cheeyappara is about 70 kms from Cochin. Read more
Areekkal waterfall
Areekkal is a multi-stepped cascade that comes into full life during monsoon after drying up in summer. Located at Piramadam, a village about 37 kms (one hour drive) east of Cochin, this cascade is yet to become a well known tourist spot.
Paniyeli Poru
Paniyeli poru is a lovely location of gently cascading river surrounded by green territory teeming with birds and butterflies. Not a waterfall per se. So what, this is a serene spot with plenty of water and an uplifting feel.
Paniyeli Poru is about 55 kms north east of Cochin. Kodanand elephant centre, Illithodu eco tourism spot and Malayattor Church are interesting places in the locality visited by many tourists.
Return from Waterfalls near Cochin to Kerala waterfalls page

Back to Ernakulam district page
Return to Keralatravelpal home page